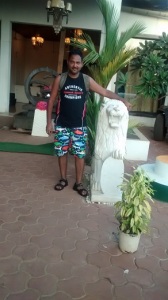 After a long wait we planned for our first beach holidays. And without any second thought Goa was the destination for us. My family along with two more families of my office colleagues were on trip. In total three couples and five kids between 2-6 year of age. We started on 20th Sept 2014 with GoAir flight from Delhi. To be honest GoAir experience was not good. Flight was late by more than 1.5 hour. I still remember and miss kingfisher days !!.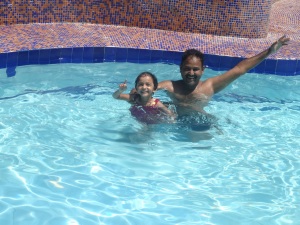 We reached Goa and hired taxi to resort, which we had booked in advance. We stayed at Estrela do mar beach resort. Though I was a bit unsure of this place after reading some negative feedback on internet. But to be honest we enjoyed a lot. This resort is next to Baga beach and you can walk down to beach in few min. For many of us being at beach was first experience. And I cannot explain it in words. Children were happy and played for hours on beach in water and sand. Weather was also decent during our visit. During day time it was sunny but a bit humid and in night it was pleasant.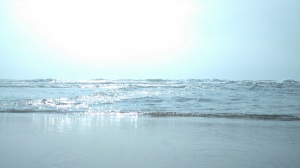 After spending hours on beach we returned back to resort and again spent time with kids in swimming pool followed by some kaju fenny and beer. Food at resort is also good but you should explore more eateries out. After trying many options Kaju masala emerged as favorite for us.
Goa is state of open-minds and you get hard drinks in almost each restaurant. You should try some local food for a change.
We had spent first day mostly on baga beach and in nearby local markets. For local commuting you can hire two wheelers but traffic is a bit messy. You should ride with care specially with if you are traveling with kids. We were 3 families with small kids so we decided to hire a 7 seater car and had a comfortable drive to Aguada fort. Aguada fort was constructed about 400 year ago as a line of defense against attackers. Actually there is not much t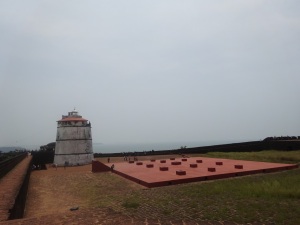 o see here. But you can spend time watching seashore down from fort walls. Surrounding area is lush green. After this we went to candolim beach. We found just ourselves there, no sign of other tourist on beach. While walking in the water we found signs of sea life on beach, some star fishes and small crabs 🙂 After some struggle we managed to catch few of them for photo-shoot 🙂 . I saw star fish for first time in life, must admire nature for beautiful creature.
One day we decided to go for day tour organized by hotel. We we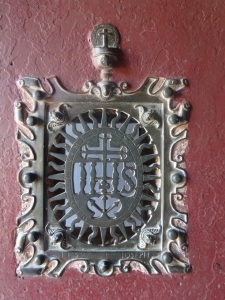 re excited about it. But starting of tour was not so good, it started with historic church and some temples in Old Goa. It was really humid and hard to roam outside. I wish I was on beach enjoying splashes of water. Last two destinations of tour were worth to see and enjoy. Colva beach is really amazing and beautiful. You can spend hours in clam water without high waves. It is very safe for children. we had to rush for evening Cruise. Cruise service was part of tour package so we didn't had to stand in ticket queue. But to board cruise we had to wait for 45 min because of long queue. It was really difficult to stand in hot and humid weather with kids. Cruise was over crowded and at times you find difficult to move around. I guess service operators try to squeeze maximum profit out of poor ship. Luckily I got space to stand in front and view was really awesome!! with winds and sun going down in Arabic ocean. Rea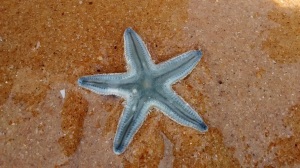 lly unforgettable experience. I heard some music in down deck and went down. Dancers were performing konkani dance there. Overall we enjoyed cruise, if I minus the pain to board and on-board crowd.
I would suggest to visit Goa just before season starts in October. That time y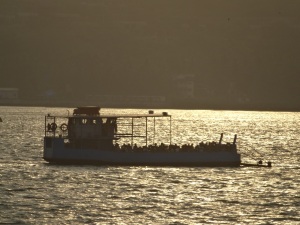 ou get clean beaches and you hardly see human footprints on beaches.
In your shopping list you can add summer apparels, local decorative items made of sea shells, Cashew nuts and Kokam concentrate from Goa.