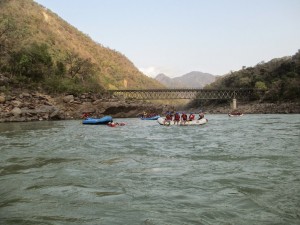 Rishikesh is one of the preferred destination for rafting in India. Located about 300 km north from Delhi, Rishikesh is a Hindu religious town. Main Rishikesh town is destination for pilgrims and if you go 25-30 km up in the hills, at Shivpuri and marine drive, it is favorite destination for adventure sports lovers.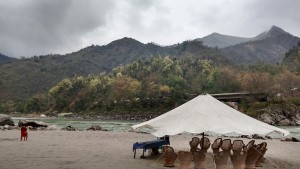 We started journey from my home town, Kurukshetra, around 6 in the morning and covered 180 km in about 5 hrs. Most of the journey goes through narrow roads and slow moving traffic. Sometimes you can expect traffic jam for hours during weekends/holidays. Once you reach Haridwar you start getting the feel of destination when yo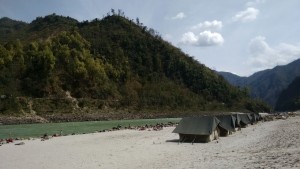 u see Himalayan foothills and river Ganges. Drive from Haridwar to Shivpuri and marine drive is picturesque and charming.
We stayed at a river side camp. It was our first camping experience so we didn't brought many essential things which I feel should have been with us, like flash light, first aid kit, power ba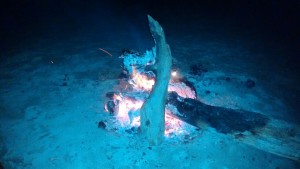 nk for mobile charging etc. In the camps you get basic facilities, a tent for 2 with bedding, a larten (kerosine lamp, no electricity). Camp organizers do provide you meals which are usually included in package deal. You can do a lot at camp site, play volleyball, sit aside river to relax, kids enjoy building structures in sand. Overall it is a nice experience.
The real adventure starts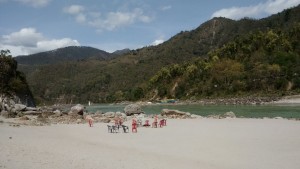 with rafting 🙂 which is part of package. Our Camp was at marine drive so we had opportunity to do downstream rafting of about 26 km. It takes about 2-2.5 hours to reach Rishikesh from marine drive. There are many rapids on the way and if you don't follow instructor or go out of sync with team then you may risk everyone on boat. We had faced an incident at cross fire rapid where 5 of 8 members fell in rapid and one was flown away from raft. R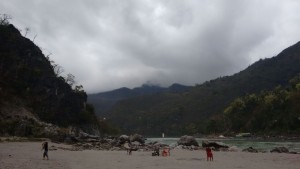 apids fill you with thrill but can be dangerous as well. Some well-known rapids are Sweet Sixteen, Cross Fire, Three Blind Mice, Roller Coaster, Golf Course. Most of these are grade 2 and 3 rapids.
Rafting is nice adventure sport if done under proper guidance.