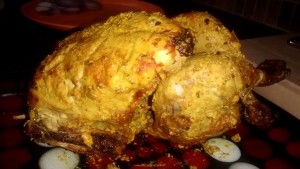 Ingredients:
1) One whole chicken 700gm to 800gm without skin and fat.
2) 3/4 cup curd.
3) 1.5 tpsp ajwain.
4) salt to taste.
5) red chilly powder to taste.
6) 1 tbsp turmeric power.
7) 1 tbsp chat masala.
8) 1/2 tbsp green cardamon powder.
9) 2 tsbp ginger garlic paste.
10) 1 tbsp oil.
11) 1 lemon to garnish.
12) sliced onion to garnish.
Steps: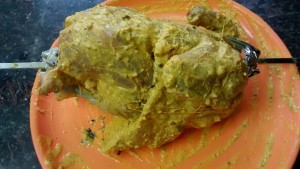 1) Prepare marinate. Mix salt, chilly powder, turmeric, chat masala, ajwain, gingen garlic paste in curd.
2) Make cross cuts on chicken.
3) Apply marinate in and out of chicken, make sure marinate. goes deep in the cuts and covers whole chicken.
4) Let it rest in fridge for 2-3 hours.
5) Take out chicken from fridge and tie up chicken legs, wings and neck tight to the body with thread.
6) Preheat oven at 250 degree for 10 min.
7) Hang whole marinated chicken on rotisserie rod of oven.
8) Set temp to 250 degree and rotisserie function with timer set to 40 min initially.
9) After 30-40 min when moisture is drained out of chicken, brush it with oil and set timer for another 30 min to make skin golden crispy.
10) Garnish with lemon and sliced onion.
Enjoy hot with drinks !!