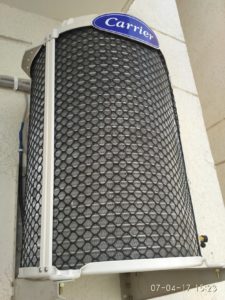 Recently carrier has launched a split AC with redesigned outdoor unit. This series is called Ester+ with cyclojet technology. It has cylindrical shape outdoor unit that intakes air from cylindrical surface and discharges hot air from fan on top.
Outdoor unit takes quite lesser space compared to conventional outdoor AC units. But this design adds more surface area for air intake and more area for condenser inside.
Outdoor unit body is mainly built of fiber which is stronger and durable in long run. Carrier normally provides all copper condenser and cyclojet is no exception, it has 100 % copper condenser.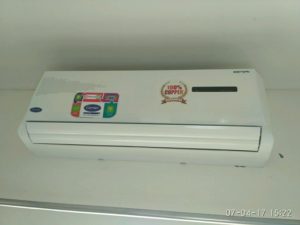 I have got 1.5 ton 5 star Ester+ cyclojet model from flipkart at about 37000 Rs. This series is available in 1, 1.5 and 2 ton capacity with 3 and 5 star BEE ratings.
Even the indoor unit is slightly smaller than my another carrier inverter AC.
I have installed it in 14×15 ft drawing room which has passage in my 11×12 ft dining room. Even without partitioning between two rooms I feel that the cooling is effective.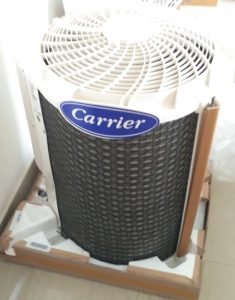 Here are the detailed specs of this AC:
Model Name Ester+ 18k 5 Star Cyclojet
Capacity in Tons 1.5 Ton
Star Rating 5
Cooling Capacity 4800 W
Compressor Rotary
De-humidification Yes
Condenser Coil Copper
Dimensions
Indoor W x H x D 92 cm x 29.2 cm x 22.5 cm
Indoor Unit Weight 12 kg
Outdoor W x H x D 56.5 cm x 70.4 cm x 45.2 cm
Outdoor Unit Weight 36 kg
Air Flow & Filter Features
Anti-bacteria Filter Yes
Dust Filter Yes
Some key features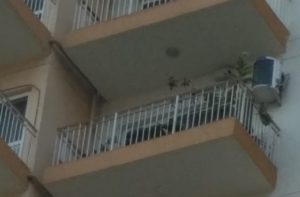 i-PM 2.5 Filter
Refrigerant Leakage Detector
NeXgen Dehumidifier
Smart Diagnosis – Turn off if there is any fault
Turbo Mode
Auto Swing
Sleep Mode
Timer – Start the AC at a pre-assigned time using the 24 x 7 timer